MODEL 20
Nov 2006
TRAVELING BUCKET DREDGER
This model was adapted and built by Geoff Bennett based on the Supermodel Leaflet #5, displayed at the Henley Show in September 2006.
Geoff Bennett describes :
"Examination of the SML photographs are enough to show that this model as shown would require some dedication to make it work.
The gear train is suspect, dredger buckets don't attach firmly to sprocket chain, the structure is too flimsy and only one pair of track wheels is driven.
In the adapted model the dredger buckets are mounted on flexible track which runs on gears from Plastic Meccano. Power come from an E20R motor.
The gear train has 3 sliding shafts to engage each movement as required, but reverse is via the motor as in the original layout. The horizontal lever
controls were replaced by quadrant levers where the curved strips provide friction to position the sliding shafts. Drive was provided to the
2 pairs of drive wheels under the main structure. Counterweight hidden in the diesel tank (boiler) helps balance the model and keep the weight on the
driving wheels. Note the operation of the jib through an unusual angle drive with thrust reinforcement from a bent strip."
I have always wanted to build the Supermodel bucket dredger, but Geoff's design inspired me to build the model. The model requires 9 buckets and
an article in the International Meccanoman Magazine, Issue 1, 1988 describes how to make a Dredger bucket from sheet metal.
Click here to view the scan and description on making your own buckets. The width & length of the bucket should be 27mm x 55mm once printed.
I traced out the pattern onto a piece of thin cardboard and used the cardboard as a template to trace out onto the sheet metal. The buckets were fairly
easy to cut and fold and I spend about an evening making them. I sprayed them flat grey, apparently a color they were never produced in but it matches
the Yellow and Zinc theme of my model.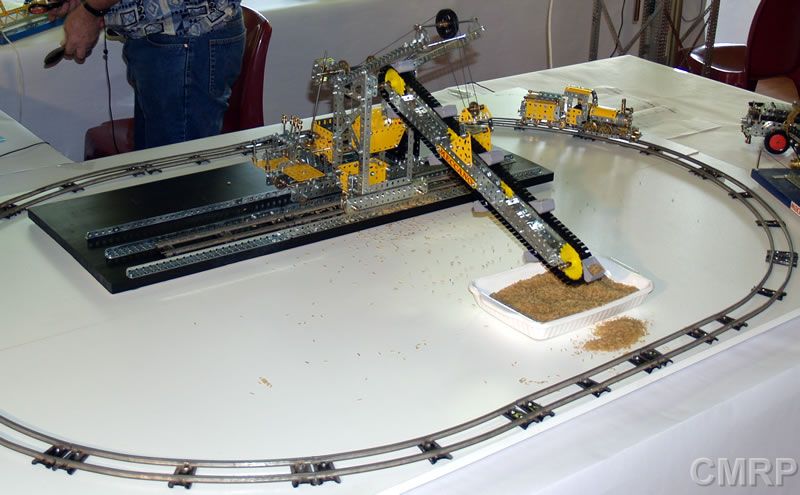 The dredger in action at the TMG 2006 Annual Exhibition.