PROJECT 8
March 2003
MAKING ELEKTRIKIT PIVOT BOLTS AND ELEKTRIKIT CONTACT SCREWS
Pivot Bolts
Recently I needed some Elektrikit Pivot Bolts (Part# 545) and Elektrikit Contact screws (Part# 543).
My dealer only had one of each.
He informed me that he doubts that he will get original stock in again and he can only get repros for me.
I decided to make a plan and make my own.
PIVOT BOLTS
The Elektrikit Pivot bolt is a 1/2" long cheese head bolt. The thread under the head is removed to ID it as a pivot bolt.
The end of the bolt is hollowed out to accept the point of a pivot rod for minimum friction.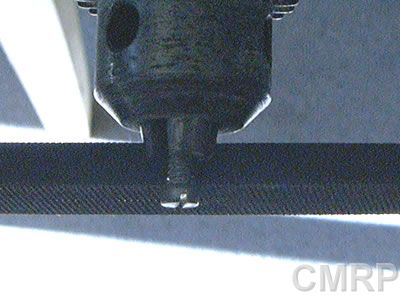 I started by clamping the bolt in the chuck of my power drill and used the edge of a triangle
file to remove about 1mm of thread from under the head of the bolt while running the drill.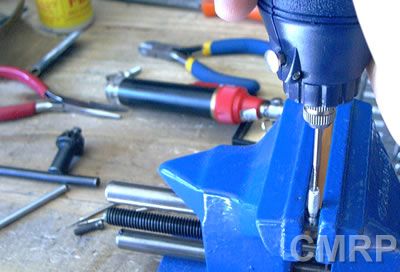 Using my Dremmel tool I ground out the end of the bolt into a concave "V" shape.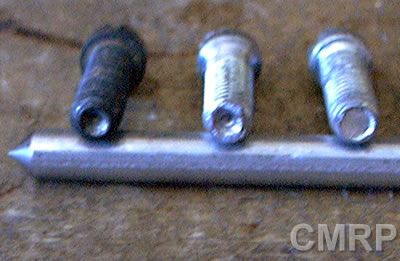 The finished result.
From the left : an original Elektrikit Pivot bolt, My Repro, a normal 1/2" bolt.
They are fairly easy to make and it is difficult to tell the difference.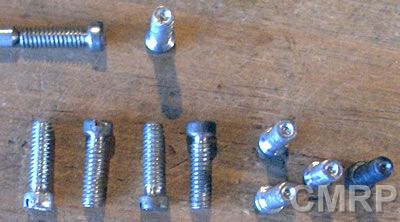 I made nine bolts in an hour. The original is on the far right.