MODEL 11
May 2003
SKIP TRUCK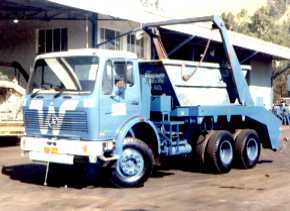 This model was based off a model Plan from MW models of a set ten model designed by Tony Parmee.
In the modelplan it is a horse used to pull containers. I have made quite a few changes to the model to
convert it into a skip truck.
The model truck uses 14 batteries to run all the components including the infra red remote :
- There is a flashing led as the warning beacon on top of the cabin.
- There are two stabilizer rams that extend down at the rear of the truck as stabilizers when the truck lowers the skip.
- The truck is infra red controlled for driving and steering using the Meccano infra red kit.
- A hydraulic system is fitted with two hydraulic rams raising and lowering the skip using a hydraulic pump system.
The hydraulic system has a motor running close mesh gears to create flow.
I designed it to be separated from the trucks chassis for easy access. In the last picture you can see the components.
The system consists of a reservoir for return fluids, one way valve, motor, pressure regulator, direction flow controller.
Skip trucks are seen all around town, used privately and by Municipalities.
Skip trucks drop off a skip at your premises for hire.
When the skip is full, you call the company to come and collect the skip.
The truck lifts the skip onto its bed hydraulically using the arms and four chains.
The hydraulic pump is run off of the trucks diesel motor.
When the truck is at the dump site, the rear chains are released and the skip is tipped to empty it.
To stop the truck from falling over backwards when lifting or lowering a skip, two stabilizer rams at the rear of the truck extend to
stabilize / brace the truck.
The operator works the controls from outside the truck and for safety reasons the arms won't move until the stabilizer rams are extended.
Go to the Videos section to see clips of the truck lifting and tipping.