MODEL 14
December 2003
BLAW KNOX BULLDOZER
This model was built from the model plans No57.
The model is pretty straight forward to build. The only tricky part was getting the differential to
work smoothly, especially when turning.
The model turns by pulling a lever that jams a modified bolt into the teeth of one of the 1" gears on its shaft.
This causes the other track to pull the dozer around.
The model runs on a powerdrive motor powered by four NiCad batteries.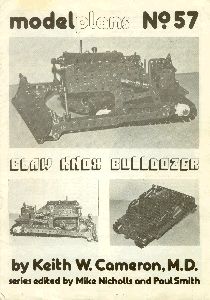 The ModelPlans No57