MODEL 21
May 2009
GIANT DRAGLINE
This Supermodel Leaflet No.27 was based off of the Ruston No.300 steam shovel built by Ruston & Hornsby Co.
There was not a lot of info on these machines on the web. The book : "Lincoln's Excavators: The Ruston Years 1875-1930" by Peter Robinson provided a lot of information regarding these machines of that period.
From the Book and postings on http://www.practicalmachinist.com/vb/showthread.php?t=113292 :
"Six Ruston No. 300 Steam Draglines were delivered to work on the Sukkur Barrage and Irrigation Scheme in what was then India in 1924.

Commenced in 1923 and officially known as the Lloyd Barrage and Canal Construction Scheme this massive project, the purpose of which was to irrigate 6 1/2 million acres of land in the Sind desert of NW India, involved the excavation of more than 210 million cubic yards of material and the construction of the Sukkur Dam nearly a mile long spanning the river Indus. It was the largest irrigation scheme in the world, with a cost greater than the Suez Canal and involving four times as much excavation.

There are seven main canals having a total length of 1,000 miles and ranging from 79ft to 346ft in width and up to 20ft in depth. Also 700 miles of branch canals and 4,000 miles of distributory canals, plus 50,000 miles of final feeders excavated by the farmers who rented the land.

There were fierce winds and sandstorms almost every day, nowhere to service machinery, no water suitable for boilers, few roads, and it was necessary to build tramways to supply the machines with coal, oil etc. Temperature was 49*C (120*F) in the shade at times!
Camels used for supply in outlying areas, and men lived in tents near the machines.
Three shifts were operated per day, all year, mostly operated by Indians.
The whole scheme was completed in 1932.

There were many other draglines operating on this scheme, a total of 46, supplied either by Ruston or Bucyrus, including diesel-electric and diesel powered machines."
"Ruson works set up the dragline on temporary rails in their works yard and got it in steam for full testing. After that, it had to be knocked down and shipped to India."
I built the dragline as per the Supermodel 27 instruction, except I re-designed the gearbox to be radio controlled (The Supermodel design gearbox is useless). Two servos control the Lift and Drag brakes, one to engage Lift and Drag, one to engage Travel and Luff, one for Slew and another for motor Forward / Reverse. Six servos in all.
The model can be run on a SP3 steam engine or an E20 Electric motor, which picks up power from a third rail on the track and commutators in the swivel bearing. Common mounting points on the chassis (Threaded Bosses), gearbox and direction control servo allow for a quick and easy swap out.
The model runs satisfactorily, if not a bit slow.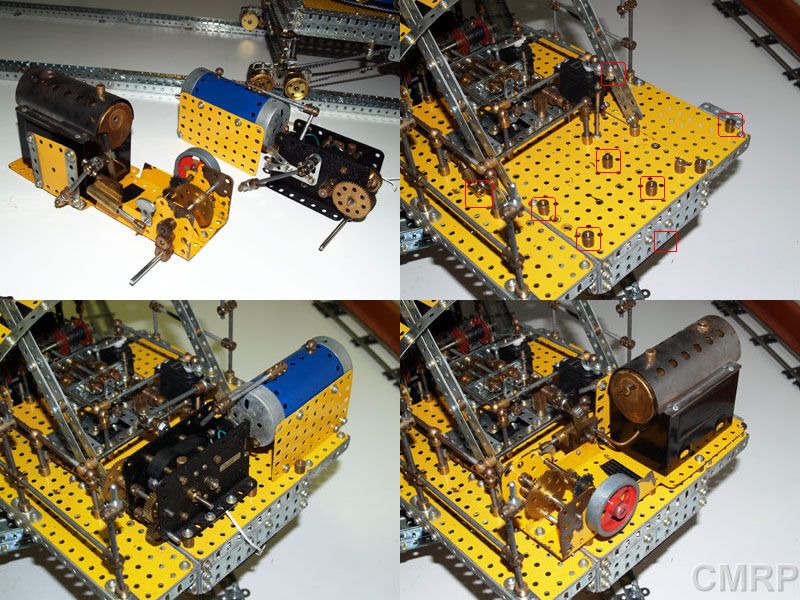 Swapping out the motors is quick and easy. Common mounting and connecting points make this possible.
The power feed for the electric motor connects to Terminal Nuts below the base.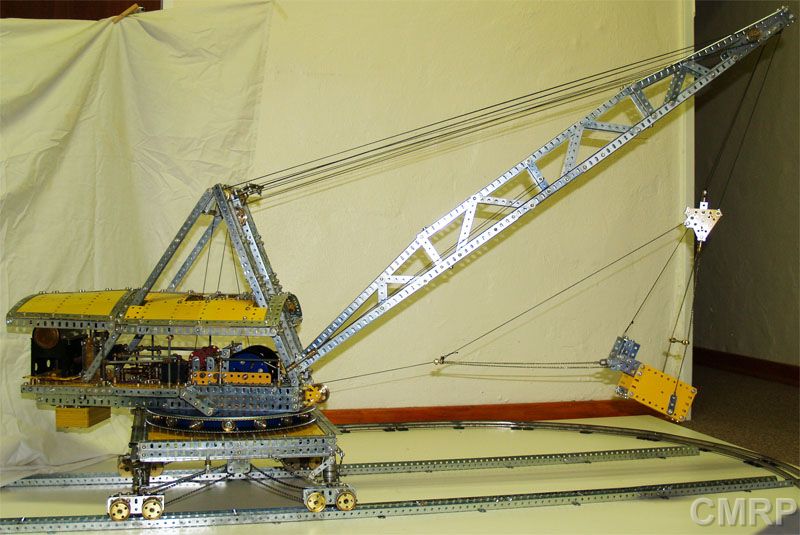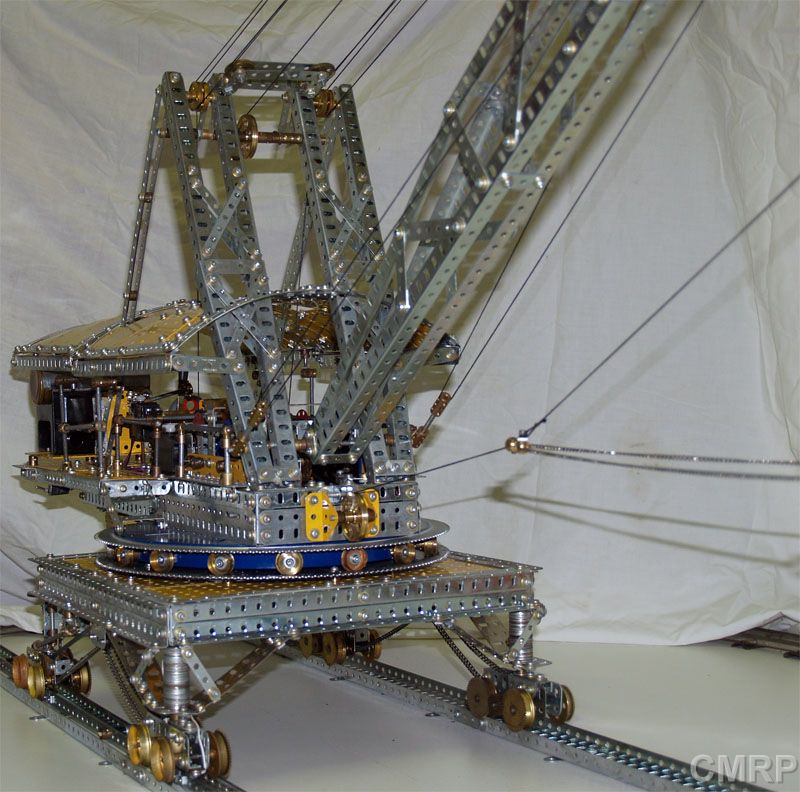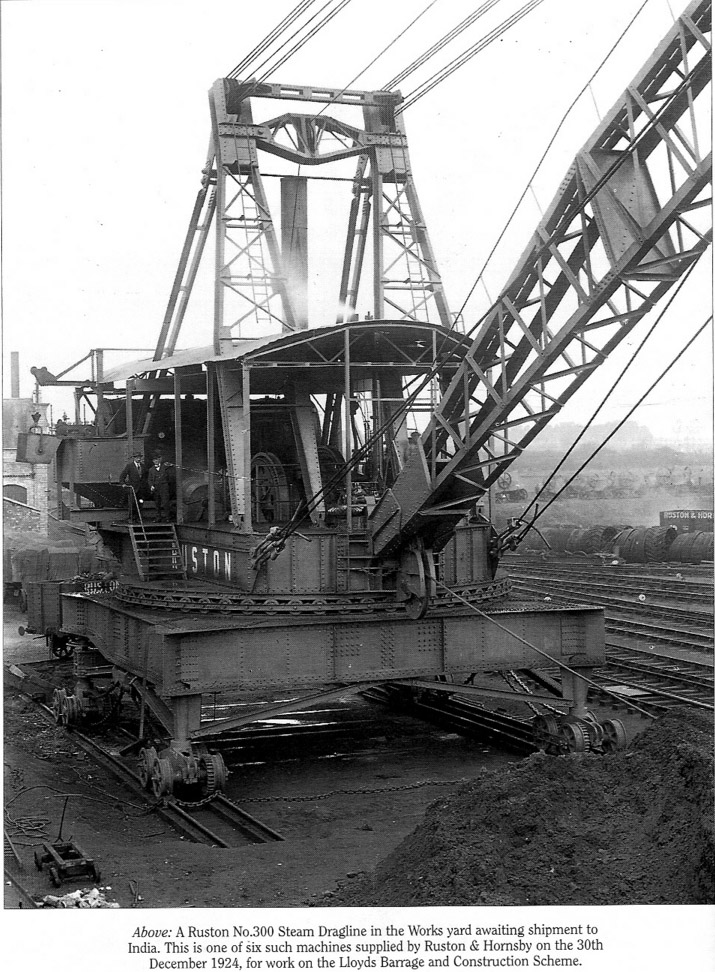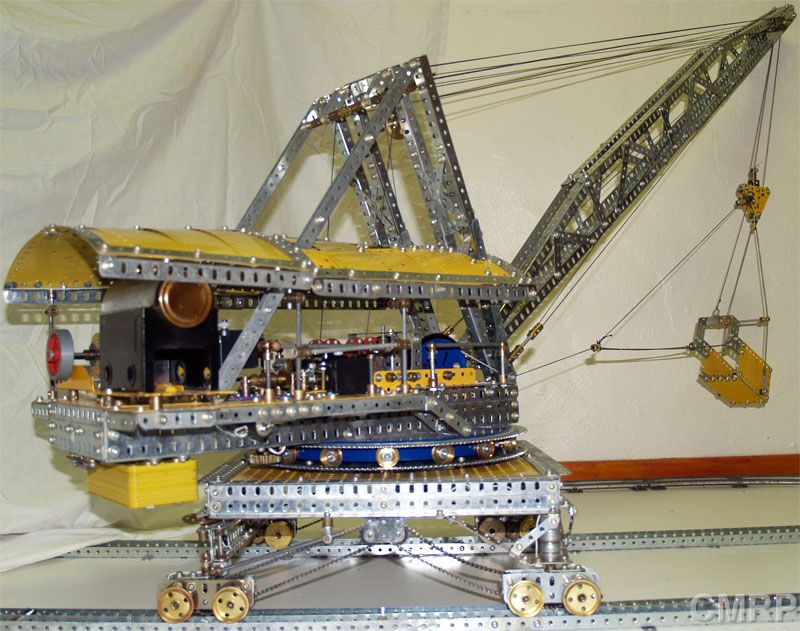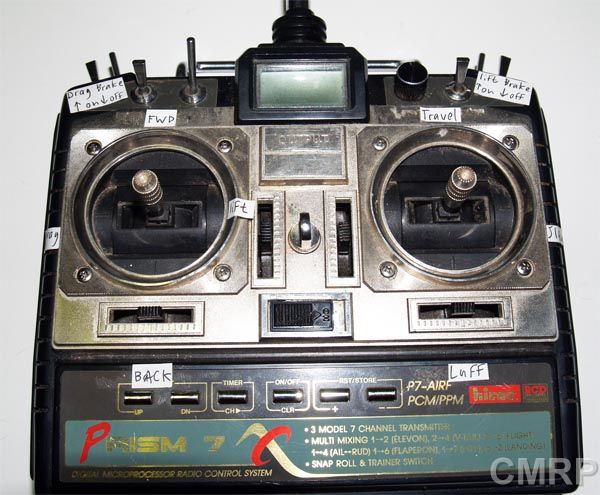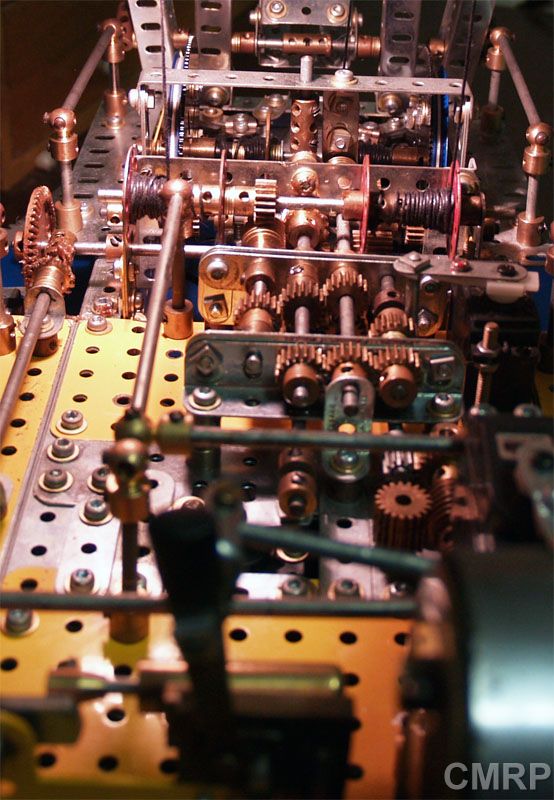 View of the gearbox from the rear of the machine.