ABOUT THE JMH
The JMH stands for Johannesburg Meccano Hobbyists. Based in South Africa we are a club dedicated to the hobby of Meccano. We are an interest based club and like clubs worldwide we try and promote ideas, unique concepts and models amongst similarly minded people. Club members are from all walks of life, including engineers, salespersons, young, old, you name it... we have them!
In 1974 Charley Roth, Dave Feinstein and Dennis Els got together and founded the JMH. The JMH over the past 25 years has exceeded 100 membership (40 active). The club currently holds meetings every 2 months at a private home. (see below)
The JMH is proud to be affiliated with the International Society of Meccano.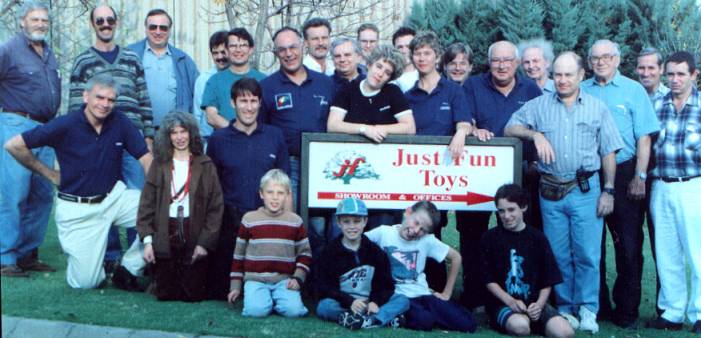 MEETINGS
The club holds meetings once every two months at a private home, starting at 14:00. Guests are welcome to visit club meetings at any time, and are encouraged to join if they feel the need to do so. At meetings, members share ideas, exchange parts, have a look at Meccano literature, show off their models or just socialize. After the meeting tea and snacks are served.
DIARY DATES FOR THIS YEAR (2004)
Saturday 19 January - New Year Bring and Braai & AGM.
Saturday 29 March
Saturday 3 May
Saturday 12 July
Saturday 6 September
Sunday 2 November - Outing leaving at 11:00 from Dave's house.
Sunday 30 November - Charlie Roth Memorial show and Gravity Model competition.
This will take place at the Blairgowrie Recreation Center.
There is a newsletter printed quarterly for all JMH members. Go to the Newsletter link to see what articles are featuring in the next edition of the newsletter! Go to Photo archive to see photos of past meetings.
The club arranges a few shows a year. Most members get together and display models they have built over the past weeks. These differ from club meetings in that they usually run over 2 days. Also the public is involved at a public place with mutual benefits for both shopping malls and the club. Seeing all the club members models together in one location is a formidable sight. Shows do promote Meccano. At shows and club meetings much sense of achievement of workmanship is enjoyed while on display. Club shows (unlike meetings) represent a pinnacle of refinement and development of models brought to club meetings. They draw crowds. LARGE crowds, young and old. Why? Shows allow others to revel in the nostalgia of Meccano, be it past childhood years tinkering with the lost Meccano set, or realizing ideas with an existing set, inspiring the new talent in a rewarding hobby. For pictures of past shows go to the Photo archive.
ANNUAL MEMBERSHIP FEES FOR THE YEAR 2004
| | |
| --- | --- |
| ADULT | R180 - 00 |
| JUNIOR | R100 - 00 |
| SUBSCRIBING MEMBERS | R90 - 00 |
| SUBSCRIBING MEMBERS OVERSEAS | US$30 - 00 |
| FAMILY RATE (minimum 3 people) | R85 each |
CONTACT DETAILS
The following is a list of the members on the JMH committee.